Cosmetic Dental Services in Philadelphia, PA
At deme, one of our core specialties is cosmetic dentistry. Procedures range from long-term, safe teeth whitening to the full range of porcelain-based teeth: veneers, crowns, inlays, onlays, or fixed bridges. Please read on for descriptions of our comprehensive cosmetic dental services and procedures.
In-Office and At-Home Teeth Whitening
Before KoR Whitening
After KoR Whitening
deme is delighted to offer the medically top-rated KöR Whitening procedure, which provides long-term results. Noted in dental journals, KöR Whitening is extremely safe and potent, effective even on tetracycline-stained (dark) teeth and entirely safe for teeth and gums.
---
Porcelain Veneers
Before porcelain veneer procedure
After porcelain veneer procedure
In addition to our CEREC service, deme offers our patients the option of porcelain veneers, which are very thin pieces of durable, tooth shaped porcelain that are custom made (for shape and color) by a professional dental laboratory to correct teeth that are either crooked, worn or chipped, too small or too large, or are situated in unwanted or uneven spaces.
The process of getting veneers usually requires two visits, with little or no anesthesia required during the procedure. Teeth are first lightly buffed to shape the surface and allow for the thickness of the veneer. A mold or impression of the teeth is taken and a shade (color) will then be chosen by you and the dentist.
On the second visit, teeth are cleansed with special liquids to achieve a durable bond. Bonding cement is then placed between the tooth and veneer and a special light beam is used to harden and set the bond.
---
Porcelain Crowns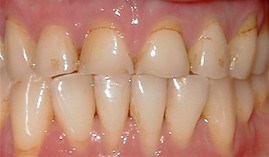 Before porcelain crowns
After porcelain crowns
All deme crowns are created via the advanced system, CEREC, a system for the fabrication of all ceramic dental restorations-in one office visit (click here to learn more about CEREC). A crown–a covering that encases the entire tooth surface, giving it the appearance of its original shape, size, and color–protects and strengthens tooth structure if it cannot be restored with fillings or other types of restorations, whether due to fractured teeth or fillings, root canal, or tooth decay. Sometimes, if there is enough healthy tooth structure left, your deme dentist will suggest a partial crown, also known as a porcelain onlay.
Crown procedures involve taking several highly accurate molds (or impressions) that will be used to create your custom crown. A mold will also be used to create a temporary crown which will stay on your tooth for approximately two weeks until your new crown is fabricated by a dental laboratory. Your deme dentist will first, however, remove any decay and shaping the surface to properly fit the crown, after which the crown will be fitted properly.
---
Porcelain Fixed Bridge
Before porcelain bridge
After porcelain bridge
A long-lasting porcelain dental bridge is a fixed (non-removable) appliance and is an excellent way to replace missing teeth, to maintain facial shape, prevent remaining teeth from shifting, or to upgrade from a removable partial denture.
You and your deme dentist will discuss the best options for your particular case. The "traditional bridge," however, is the most popular type and is usually composed of two crowns that go over two anchoring teeth (abutment teeth), then attached to pontics (artificial teeth), filling the gap created by one or more missing teeth.
Getting a bridge usually requires up to three visits. While the teeth are numb, the two anchoring teeth are prepared by removing a portion of enamel to allow for a crown. Next, a highly accurate impression (mold) is made which will be sent to a dental laboratory where the bridge will be fabricated. In addition, a temporary bridge will be made and worn for several weeks until your next appointment.
At the second visit, you permanent bridge will be carefully checked, adjusted, and cemented to achieve a proper fit. Occasionally, your deme dentist may only temporarily cement the bridge, allowing your teeth and tissue time to get used to the new bridge. The new bridge will be permanently cemented at your third visit.
---
Porcelain Inlay
Tough porcelain inlays can be utilized to conservatively repair teeth that have large, defective fillings or have been damaged by decay or trauma. Inlays are an ideal alternative to conventional silver and composite fillings. Also, they are more conservative than crowns because less tooth structure is removed in the preparation of inlays.