Microdermabrasion, Dermaplaning Treatment
Microdermabrasion is an advanced exfoliation method involving a specialized machine equipped with a diamond head to effectively and finely "sand away" the outer layers of the skin. This procedure can be preformed on the face, chest, back and hands.
Dermaplaning is a type of "manual exfoliation," also referred to as blading or leveling the skin. A #10 scalpel is used to gently scrape the outermost layers of dead skin cells–as well as facial hairs–away, leaving the the skin vibrant and smooth, and while facial hair will grow back, it will not come in any heavier, darker or thicker than when it was originally scraped.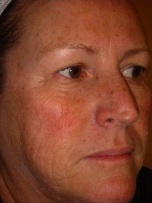 Before DermaSweep procedure
After DermaSweep procedure
DermaSweep
Our clinicians–who have, over the years, tested nearly every microdermabrasion system on the market–find the DermaSweep micro-resurfacing system the most advanced available.
deme is the seventh cosmetic medical office in the county trained in using chemical peel infusions in conjunction with the system, so our clinical care staff can provide the most intense exfoliation appropriate for your skin type.
What makes the DermaSweep so effective, in our experience, is that its brushes can remove the stratum corneum–the outermost layer of skin–via an extraordinarily even and direct technique, allowing for flawless and complete exfoliation.
Moreover, the DermaSweep system comes equipped with a vacuum, which can convey increased circulation and oxygen content to the skin. When the exfoliation and stimulation part of the DermaSweep session is complete, our clinicians reverse the vacuum to infuse the skin with one of our peels, determined by the patients' skin type and concern for the improvement of the their skin.
* photos courtesy of Peninsula Skin Rejuvenation Clinic